History of The Medway Brewery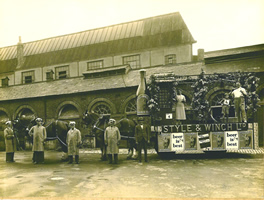 The Medway Brewery was built in 1806 by William Baldwin on land leased from the Earl of Romney. During its history it traded under a variety of names; Baldwin and Godden (1836-47), Baldwin, Godden and Holmes (1847-58), Baldwin and Holmes (1858-66), Holmes and Style (1866-82) and A.F Style and Co. (1882-99).
The brewery prospered under the ownership of A F Style, who assumed complete control when Holmes died in 1882, and he modernised and extended it between 1887 and 1899, the work being interrupted by a serious fire in 1894. Style & Winch Ltd was registered in March 1899 as a limited liability company to acquire and amalgamate the businesses of A F Style & Co and Edward Winch & Sons Ltd, Chatham Brewery, (established around I666), at a purchase price of £1,020,640 making the new company the dominant brewer in the Maidstone area. The Chatham Brewery immediately closed on acquisition, all brewing being concentrated at Maidstone.
The company subsequently took over Henry Simmons, Style Place Brewery, Hadlow, and H & O Vallance, Sittingbourne, in 1905; Tooting Brewery in 1907; Ashford Breweries Ltd, in 1912; Woodhams & Co Ltd, Rochester Steam Brewery in 1918; E Finn & Co Ltd, Pale Ale Brewery, Lydd in 1921; Royal Brewery (Brentford) Ltd, in 1922; and Dartford Brewery Co Ltd, in 1924. The growing success of the company made itself a target and in 1929 was acquired, along with its 600 licensed houses, by Barclay, Perkins & Co Ltd of London, subsequently to become part of the huge Courage, Barclay Perkins & Simonds Group. Brewing ceased in 1960 but a bottling plant was maintained on the site until 1974 when the operation was transferred to the Parkwood Estate. Despite valiant efforts to save it, the brewery was demolished in 1975. All, that is, except for the small section that lay to the west of the railway line. This remains as "The Old Brewery", the original buildings converted for use as small business units, and underneath it all in the old brewery cellars is Maidstone's newest micropub – The Cellars Alehouse.
In times gone by, there used to be watercress beds near the block of flats on Buckland Road supplied by natural spring water. The overflow from the watercress beds was fed into an underground cistern which then supplied the brewing water to brew barley wine made in the next door cellar. Once brewed the beer was decanted into wooden barrels which were then rolled into our cellar where they were stored and matured until ready to roll to the entrance of The Cellars Alehouse. There, they were lifted onto brewery drays by the derrick seen outside our entrance.
Reference: 2010. Irene Hales. Old Maidstone's Public Houses, Amberley Publishing